Disclaimer
Our systems have detected that you are using a computer with an IP address located in the USA. If you are currently not located in the USA, please click "Continue" in order to access our Website.
Local restrictions - provision of cross-border services
Swissquote Ltd is authorised and regulated in the UK by the Financial Conduct Authority (FCA). Swissquote Ltd is not authorised by any US authority (such as the CFTC or SEC) neither is it authorised to disseminate offering and solicitation materials for offshore sales of securities and investment services, to make financial promotion or conduct investment or banking activity in the USA whatsoever.

This website may however contain information about services and products that may be considered by US authorities as an invitation or inducement to engage in investment activity having an effect in the USA.

By clicking "Continue", you confirm that you have read and understood this legal information and that you access the website on your own initiative and without any solicitation from Swissquote Ltd.
If cookies are currently disabled on your computer, you will be required to continue accepting this legal information for every new page visited on this website. In order to avoid this, please enable cookies on your computer.
Research
Market strategy
by Swissquote Analysts
Daily Market Brief
No EU solution for double-listed Swiss shares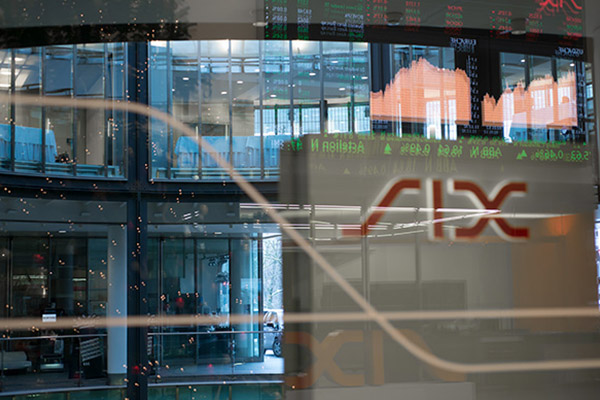 No EU solution for double-listed Swiss shares
The European Union confirmed it will not extend equivalence for the Swiss stock exchange as of 31 December. Discussions are not ended: the Swiss Federal Council is expected to provide a formal statement, while President of the Confederation and Head of the Department of the Interior Alain Berset is planning to discuss the matter with EU Commission President Jean-Claude Juncker in the coming days. A recent letter from the EU lists potential sanctions against Switzerland. For now, despite 30% of trading volumes in Swiss stocks carried out on EU platforms, we expect some volatility in Swiss stocks.

The EU estimates that dual-listed shares from Switzerland are traded significantly in the EU, requiring compliance with EU rules. Australian, Hong Kong and US shares are traded less significantly, thus not requiring further regulation. An institutional agreement that grants judiciary powers to the European Court of Justice would make disputes more cumbersome and jeopardise Swiss rules. The Swiss government has allowed a ban of Swiss shares on EU exchanges, which has been supported by the Swiss Bankers Association and the Federation of Multinational Corporations. EUR/CHF is currently trading at 1.1336, approaching the 1.1350 range.

Brexit disappointment ahead
Things are all downhill from here for Prime Minister Theresa May. Debates in parliament start tomorrow, with a vote on Brexit planned for 11 December. We remain negative on EUR/GBP, expecting a further decline to 0.8810 when the deal is rejected.

Elsewhere, markets are buoyant. US President Trump's indication he will postpone additional tariffs on China has triggered a broad rally. The Hang Seng and Shanghai composite were up 2.55% and 2.57%. The US-China armistice will last for 90 days, enough time to negotiate a longer-term agreement. If this is positive, much-maligned Chinese assets and emerging markets will come roaring back. Meanwhile, promises by Russia and Saudi Arabia to lengthen their deal on oil production cuts has enhanced oil prices. Oil linked currencies NOK, CAD and AUD have bounced off recent lows. Reports that Qatar will leave OPEC next year has had a marginal effect: the nation is only the 11th largest producer in OPEC. Purchasing manager surveys are looking good, suggesting a potential Christmas rally.