Disclaimer
Our systems have detected that you are using a computer with an IP address located in the USA. If you are currently not located in the USA, please click "Continue" in order to access our Website.
Local restrictions - provision of cross-border services
Swissquote Ltd is authorised and regulated in the UK by the Financial Conduct Authority (FCA). Swissquote Ltd is not authorised by any US authority (such as the CFTC or SEC) neither is it authorised to disseminate offering and solicitation materials for offshore sales of securities and investment services, to make financial promotion or conduct investment or banking activity in the USA whatsoever.

This website may however contain information about services and products that may be considered by US authorities as an invitation or inducement to engage in investment activity having an effect in the USA.

By clicking "Continue", you confirm that you have read and understood this legal information and that you access the website on your own initiative and without any solicitation from Swissquote Ltd.
If cookies are currently disabled on your computer, you will be required to continue accepting this legal information for every new page visited on this website. In order to avoid this, please enable cookies on your computer.
Research
Market strategy
by Swissquote Analysts
Daily Market Brief
Mixed appetite. Oil up despite IEA's expectation of lower demand. Pound jumps past $1.30 after BoJo's cabinet reshuffle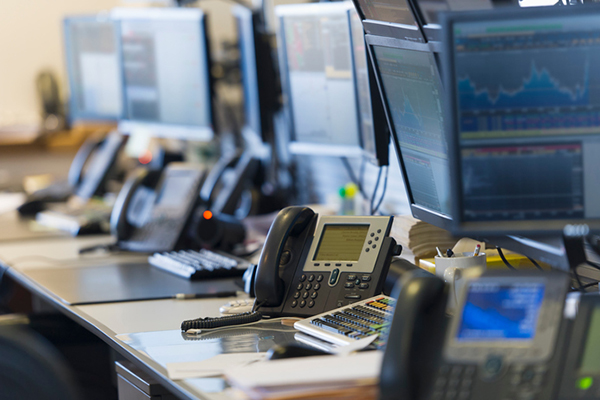 Mixed appetite. Oil up despite IEA's expectation of lower demand. Pound jumps past $1.30 after BoJo's cabinet reshuffle
The US equities swung between hope and despair, but the three major indices closed lower on Thursday. Worries that the coronavirus cases may have spiked added to the New York Fed's announcement that it will further curb repo operations.
Asian stocks were mixed. Nikkei (-0.59%) and Topix (-0.60%) fell on first death from coronavirus in Japan and the unexpected 0.2% m-o-m contraction in tertiary activity versus 0.1% rise expected by analysts and 1.4% increase printed a month earlier.
The ASX 200 (+0.38%), Shanghai's Composite (+0.38%) and Hang Seng (+0.39%) gained as investors relaxed after the World Health Organization (WHO) warned that the spike in number of cases, which was due to the change in diagnosis methodology, didn't necessarily reflect a sudden deterioration in the situation.
Alibaba shares fell 0.55% in Hong Kong as the Chinese e-commerce giant said the coronavirus outbreak will have a significant impact on consumers and merchants. Indeed, a sudden and substantial slowdown in economic activity, quarantined cities and limited traffic will certainly take a toll on the first quarter numbers, but we believe that the negative impact on online retailers will be less than many fear, as prolonged home stays may have somewhat boosted online sales in China. Anyway, the company reported 58% rise in profits in the fourth quarter, as Single Day sales hit a record of $38.3 billion on November 11th.
Sentiment in oil was mixed but WTI crude continued its recovery and settled above the $51.50 mark in Asia. The IEA said that the coronavirus outbreak could result in a 435'000-bpd fall in demand this quarter, versus the previous expectation that it would increase by 800'000 barrels. Waning demand, the existing global glut, the OPEC's hesitancy to react to the shock and the actual long skew in net speculative positions in oil will likely encourage another and perhaps a sustainable dip below the $50 handle.
Gold consolidated between the $1570/$1580 range as investors preferred keeping a foot in the precious metal to stay hedged against the risk of a further market sell-off due to the coronavirus up-and-downs.
The US dollar index surged to 99.15 as inflation in the US advanced quicker than expected to 2.5% in January, versus 2.4% penciled in by analysts and 2.3% printed a month earlier. The rise was mostly supported by a nearly 13% jump in gasoline prices, hence should readjust to the downside in the coming weeks before translating into hawkish Fed expectations.
The euro tanked to 1.0838 against the US dollar. Trend and momentum indicators remain comfortably negative, but the relative strength index (at 21.75%) warns that the single currency may have been sold too fast in a too short period of time and it could soon be time for an upside correction. Support is seen before the 1.08 mark.
The British pound was a bit shaken on Thursday by the unexpected departure of the Chancellor of Exchequer Sajid Javid - who by the way has been the shortest serving finance minister in the history of the UK, then rebounded past the 1.30 mark on news that Rishi Sunak, who was involved in the creation of the March budget, was appointed. The downside swing in Sterling due to political shenanigans is not the first and will probably not be the last as we step into the critical phase of Brexit negotiations. While Cable could find some strength to extend recovery above the 1.30 level, it will certainly find it tricky to stay sustainably above this level.
The FTSE 100 dived below the 7500p mark on Thursday and will certainly consolidate below this level before the weekly closing bell, even though the blue-chip index is expected to make a marginally positive start to the Friday's session.