Disclaimer
Our systems have detected that you are using a computer with an IP address located in the USA. If you are currently not located in the USA, please click "Continue" in order to access our Website.
Local restrictions - provision of cross-border services
Swissquote Ltd is authorised and regulated in the UK by the Financial Conduct Authority (FCA). Swissquote Ltd is not authorised by any US authority (such as the CFTC or SEC) neither is it authorised to disseminate offering and solicitation materials for offshore sales of securities and investment services, to make financial promotion or conduct investment or banking activity in the USA whatsoever.

This website may however contain information about services and products that may be considered by US authorities as an invitation or inducement to engage in investment activity having an effect in the USA.

By clicking "Continue", you confirm that you have read and understood this legal information and that you access the website on your own initiative and without any solicitation from Swissquote Ltd.
If cookies are currently disabled on your computer, you will be required to continue accepting this legal information for every new page visited on this website. In order to avoid this, please enable cookies on your computer.
Research
Market strategy
by Swissquote Analysts
Daily Market Brief
Wall Street Updates Record Highs as Trump Signs Stimulus Bill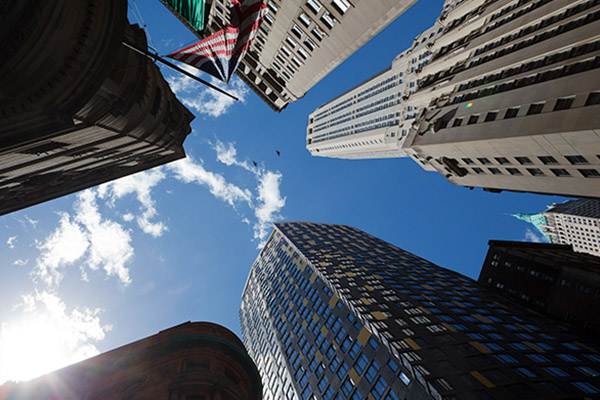 Wall Street Updates Record Highs as Trump Signs Stimulus Bill
Wall Street started the week off on the right food, with all three benchmark indexes securing gains on Monday, as US President Donald Trump signed a massive COVID relief bill worth $2.3 trillion. The move is expected to accelerate the economic recovery, which also benefits from the vaccination campaign.
Investors were quite surprised about Trump's move on Sunday, as he previously threatened to block the $900 billion bill approved by Congress a week ago.
The S&P 500 rose 0.87%, the Dow added 0.68%, and Nasdaq increased by 0.74%. All indicators updated their highest level on record. The biggest gainers were stocks that used to struggle with the lockdowns, such as airlines and cruise lines. The S&P 1500 airlines rose almost 1% after investors found out that airlines would get $15 billion in aid on top of the payroll assistance. The best performing sectors were communication services, consumer discretionary, and tech.
So far, the S&P 500 gained over 15% year-to-date, driven by a loose monetary policy and the vaccine implementation.
The US House of Representatives, led by Democrats, voted 275 to 134 to approve Trump's request to increase relief payments for US citizens from $600 to $2,000. Now the bill should pass through the Senate, which is controlled by Republicans. Until then, the Treasury Department said it was planning to send the first batch of $600 stimulus checks to American citizens as early as this week.
In Asia, stocks are mostly bullish on Tuesday, following the rally in the US stock market. The optimism surrounding the stimulus bill was boosted by the House of Representatives' vote to increase direct payments to citizens from $600 to $2,000.

At the time of writing, China's Shanghai Composite is down 0.30%, while the Shenzhen Component has increased by 0.02%.
Alibaba plunged over 8% again on Monday, as Chinese regulators required the e-commerce giant's subsidiary, Ant Group, to change its businesses. Bloomberg reported that Ant was planning to transform its financial operations into a holding company that could be regulated as a bank.
Hong Kong's Hang Seng Index is up 0.92%.
Japan's Nikkei 225 surged 2.74%, touching the highest level in about three decades.
South Korea's KOSPI is up 0.27%. In Australia, the ASX 200 closed 0.53% higher.
MSCI's broadest index of Asia-Pacific shares outside Japan increased by 0.46%.
In the commodity market, oil prices rose on Tuesday, as investors expect an increase in fuel demand. Trump signed a massive stimulus package while the House of Representatives voted to increase payments to Americans to $2,000, which would support crude demand. Also, the European Union and Britain agreed on a trade deal, which also bodes well for crude. Currently, WTI is up 0.80% to $48, and Brent has gained 0.69%, to $51.25.
Gold is also bullish on Tuesday morning after the House of Representatives passed a bill to increase household checks to $2,000. The metal is now up 0.10% to $1,882.
In FX, the US dollar is bearish again, as the second round of stimulus in the US is supporting risk assets. The USD Index, which tracks the greenback in pair with six other currencies, fell 0.23% to 90.067. EUR/USD is up 0.20% to 1.2239. The risk appetite also rose on the Brexit trade agreement secured last week. The ongoing optimism might maintain the pressure on the US dollar, especially as the vaccination campaign is ramping up.
Both AUD/USD and NZD/USD have increased by more than 0.20%. On Monday, markets in Australia and New Zealand were closed for Boxing Day.
The pound is bullish against both the USD and the euro as investors analyze the text of the Brexit trade agreement, which was released on Saturday.