Disclaimer
Our systems have detected that you are using a computer with an IP address located in the USA. If you are currently not located in the USA, please click "Continue" in order to access our Website.
Local restrictions - provision of cross-border services
Swissquote Ltd is authorised and regulated in the UK by the Financial Conduct Authority (FCA). Swissquote Ltd is not authorised by any US authority (such as the CFTC or SEC) neither is it authorised to disseminate offering and solicitation materials for offshore sales of securities and investment services, to make financial promotion or conduct investment or banking activity in the USA whatsoever.

This website may however contain information about services and products that may be considered by US authorities as an invitation or inducement to engage in investment activity having an effect in the USA.

By clicking "Continue", you confirm that you have read and understood this legal information and that you access the website on your own initiative and without any solicitation from Swissquote Ltd.
If cookies are currently disabled on your computer, you will be required to continue accepting this legal information for every new page visited on this website. In order to avoid this, please enable cookies on your computer.
Research
Market strategy
by Swissquote Analysts
Live Analysis
Bitcoin: positive outlook in 2020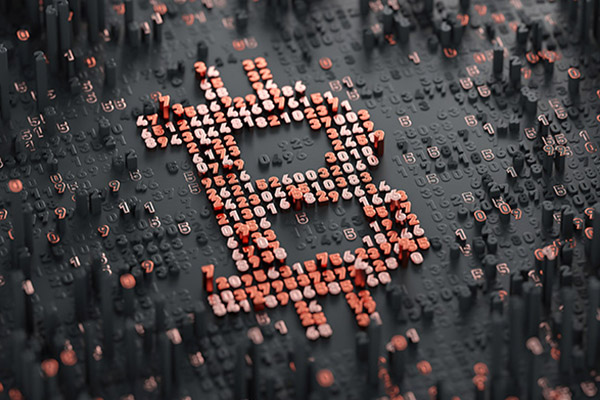 Bitcoin kicked off the year with a bang, as its price surged to $9200 last week from around $7000 at the beginning of January. Improved appetite combined to fresh portfolio allocations gave an early boost to the world's most traded cryptocurrency. Can Bitcoin hold off for further gains? Will 2020 be a prosperous year for Bitcoin? What should Bitcoin investors watch in 2020?
Yes, Bitcoin prices are heavily shaken by speculation, but it is still worth sinking our teeth into fundamentals to understand what may matter the most to Bitcoin investors in the coming months.
One of the reasons that explain the clear bullish case for Bitcoin this year is the upcoming halving in May. Every four years, the number of Bitcoins generated around every ten minutes is divided by two. In 2016, mining Bitcoin would generate 25 Bitcoins. Now, this number is down to 12.5. From May onwards, 6.25 Bitcoins will be generated instead. This means a significant decline in Bitcoin supply. It is unsure how the market will react to Bitcoin's 2020 halving, and whether a part of this planned modification is already reflected in actual prices, but the previous two halvings pushed the Bitcoin's price significantly higher. This year's halving could give investors a good reason to jump on the back of a bull.
Besides the planned halving, the Bitcoin network is preparing for additional software upgrades to increase the security and the scalability of the network and to improve the smart contract functionality. Also, developers continue seeking solutions to move a part of the traffic to alternative layers to diminish the congestion on the basic Bitcoin network and to speed up transactions. But these regular changes may remain invisible to most investors, who will rather focus on whether 2020 will bring any changes to the cryptomarket from a regulation perspective and whether more institutional money would enhance demand in this alternative market.
Although volatility and unpredictability will likely remain on this year's menu, the positive outlook could generate enough demand to send the price of Bitcoin above the critical 10'000 level within the next couple months. While such move could accelerate momentum gains, it is hard to tell how far the price could surge and whether the 10'000 level could provide a sustainable support to the market.
If you are intrigued, but the significant up and downs and heavy price unwinds make you feel uneasy investing in Bitcoin, Swissquote's Bitcoin Active Certificate could be an option for you. This actively managed certificate aims to reduce volatility by investing in a portfolio of Bitcoin and cash. By turning into cash in times of sell-off, this certificate provides a certain hedge against strong downside moves and by doing so, allows investors managing the downside risks actively, while taking advantage of price rallies as they happen.

| | |
| --- | --- |
| Open | |
| Close | |
| High/Low | / |
| Volume | |
| Market | |
| Ask | |
| Bid | |
| | |
| --- | --- |
| Open | |
| Close | |
| High/Low | / |
| Volume | |
| Market | |
| Ask | |
| Bid | |