Disclaimer
Our systems have detected that you are using a computer with an IP address located in the USA. If you are currently not located in the USA, please click "Continue" in order to access our Website.
Local restrictions - provision of cross-border services
Swissquote Ltd is authorised and regulated in the UK by the Financial Conduct Authority (FCA). Swissquote Ltd is not authorised by any US authority (such as the CFTC or SEC) neither is it authorised to disseminate offering and solicitation materials for offshore sales of securities and investment services, to make financial promotion or conduct investment or banking activity in the USA whatsoever.

This website may however contain information about services and products that may be considered by US authorities as an invitation or inducement to engage in investment activity having an effect in the USA.

By clicking "Continue", you confirm that you have read and understood this legal information and that you access the website on your own initiative and without any solicitation from Swissquote Ltd.
If cookies are currently disabled on your computer, you will be required to continue accepting this legal information for every new page visited on this website. In order to avoid this, please enable cookies on your computer.
Research
Market strategy
by Swissquote Analysts
Live Analysis
Will the Hong Kong protests cause the economy to collapse?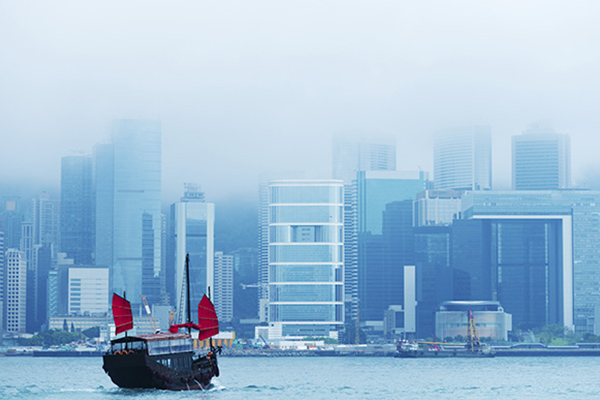 The developing situation in Hong Kong has profound historical significance. Not since Tiananmen Square have civilians so publicly challenged China's autocracy. How this will affect the special relationship between China and Hong Kong is far from clear. The immediate question, however, is how will Hong Kong's economy and stock market survive? Our base scenario is that, despite a slowdown in economic activity, most notably in tourism, no breakdown is imminent. While confrontations between protestors and government forces might escalate, violent demonstrations in Asia rarely lead to economic stagnation or collapse. Interestingly, similar protests have brought political reform and economic benefits: recent examples are to be found in Thailand, the Philippines, Malaysia and South Korea. While far-reaching political reform is unlikely given China's tight grip on Hong Kong, we expect tensions to moderate and Hong Kong's economy to come surging back.
Hong Kong is a Special Administrative Region (SAR) of China. China controls the island nation via a "one country, two systems" form of government established when sovereignty was transferred from Britain to China in 1997. It is clear that the government has completely mishandled the current situation resulting from the new extradition bill. However, the evolution from street protests to revolutionary movement was always going to happen. The friction really began in 2014 when the process for electing Hong Kong's Chief Executive moved the SAR away from universal suffrage to an election process managed by Beijing. It was this action that triggered the 2014 Occupy movement. The protest may only have lasted 80 days, but the seeds of revolution were sown. Dissatisfaction continued to fester, especially among Hong Kong's youth; the average protester demographic is aged 29 and under and college-educated. In addition, the youth-oriented movement has learned how to use advanced techniques – including harnessing the power of social media – to organize itself. Most people believe China's anointed Chief Executive, Carrie Lam, would not have won her post in an open election, hence she has never gained the respect of the people of Hong Kong.
This backstory clarifies why the protest's slogans have evolved from targeting the extradition law to championing human liberty. Of the protestors' five demands, two focus on issues beyond the extradition bill. We don't believe unrestricted democracy, as understood prior to 2014, is likely to return to Hong Kong, or even that there will be any significant change in government. One of the protesters' demands has been met: the full withdrawal of the bill. In our view, the protesters will have to settle for a compromise. However, a US-style democracy is not a prerequisite for a peaceful and positive investment climate in Hong Kong. Hong Kong will continue to maintain important freedoms such as its own currency, the ability to negotiate trade agreements, and independent monetary policy. Interestingly, Hong Kong's unique position means it does not have to pay the tariffs the US is imposing on Chinese imports. These freedoms are critical to preserving Hong Kong's role as a financial center and economic hub for Asia. Beijing is keen to protect Hong Kong's status in this role (and Chinese banks hold substantial assets in Hong Kong – $1.1 trillion in 2018), supporting our view that there is no real risk to "two systems" at this point. As investors become more comfortable with the protests, they will remember that Hong Kong still ticks key investment boxes: easy access to capital, a light regulatory burden, a solid currency and a well-educated work-force.
In the short term, the impact on Hong Kong's economy – specifically, disruption to tourism and retail spending, combined with US/China trade tensions – is reflected in the economic data. There is a famous Chinese saying, "You work day and night," which applies to Hong Kong. The region's work ethic and high productivity will enable its economy to recover as the protests inevitably fade. In addition, the thaw in US/China trade tensions will inevitably support risk-taking in Hong Kong. The Hang Seng index has already recovered significantly from its protest-driven lows.

| | |
| --- | --- |
| Open | |
| Close | |
| High/Low | / |
| Volume | |
| Market | |
| Ask | |
| Bid | |